To fulfill Allah's command "and proclaim the Hajj among men…" (22:27), that they may fulfill the fifth pillar of which the foundation of the religion of Al-Islam is built. To aid and facilitate in the complete preparation, education, and implementation of the rites of Hajj as provided by Prophet Muhammad (pbuh) in a way that is pleasing to Allah (swt).
"Llimited seating" so reserve your seat today with a min $500 deposit."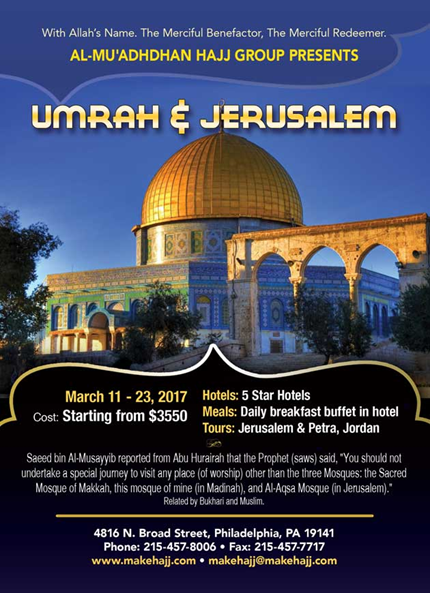 UMRAH & JERUSALEM Umrah Only
JERUSALEM: PRICES REDUCED BY $300. pp
March 19 - 23, 2017

Flight on Royal Jordanian from JFK NY to Amman, Jordan to Jeddah, KSA

REDUCED to $3,550. pp in Quad room - price was $3,850.
REDUCED to $3,650. pp in Triple room - price was $3,950.
REDUCED to $3,950. pp in Double room - price was $4,250.
Medinah and Mecca Accommodations:

4 nights' in Movenpick Hotel (5 Stars) - Medinah
4 nights' in Hilton Suites (5 Stars) - Mecca
Jerusalem and Jordan Hotel Accommodations include:

Double room
1 night in Marriott Hotel (5 Stars) in Petra, Jordan
2 nights in Golden Walls Hotel (4 Stars) in Jerusalem
1 nights' in Kempinski Hotel (5 Stars) in Amman
Meal Plan:

· Daily Breakfast Buffet in hotels.
Transportation/Tours:

· JED/MED by Air
· Ground transportation via private bus to: Medinah / Mecca / Jeddah
· Sightseeing: Half Day Mazarat in Medinah & Half Day Mazarat in Mecca
· Ground transportation via private air conditioned bus in Jerusalem & Jordan
Included Services

· Meet and assist on arrival and departure at King Hussein Bridge
· English speaking tour guide for Jerusalem and Jordan
· Complimentary Ihram for males
· Complimentary prayer rug for females
· Guided through Umrah rites and tours
· Shuttle bus at border Jordan side
· Visa Processing
NOT INCLUDED:
Anything not included in the above.
Any meals other than breakfast
Visa and entry fees into Jordan / Jerusalem appprox $140
· ($140. Paid individually in Jordan / Jerusalem)
Tips for tour guides, bus drivers, restaurants etc.
Travel insurance
Personal expenses e.g. phone calls, laundry, room service etc.